No Turning Back
Hello again fair Readers.
Once again I am being crept up on by my former husbands.
Perhaps not so much 'crept' as 'In Your Face'

It's never ending.
and probably not good for my seed.
Young Anya gains a best friend.
She also hosted yet another Headmaster visit where she secured a place for her half-brother Spike.
Later that day she transistioned into a Teenager.
She is following the path of Knowledge.
Tonight sees the appearance of two new ghosts.
The cow-plant eaten Scott.
and the red and crispy Count Greg.
You know what this face means?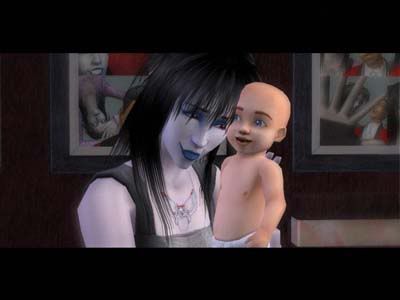 My 11th spawn makes its way into my world.
Yet another boy-child.
I name him Will.
He has red hair like his father, Count Greg.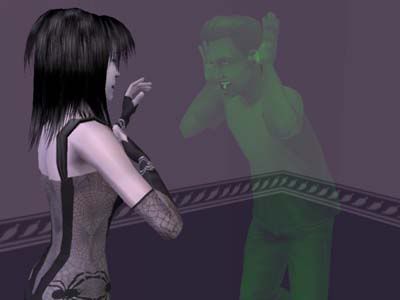 I barely had chance to put him into his crib and Scott was upon me.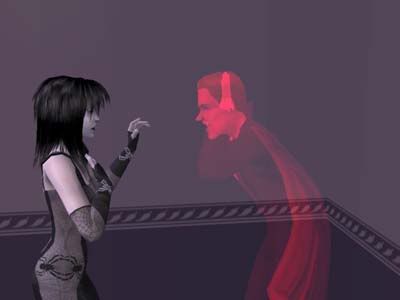 Followed by Greg.
and Scott again.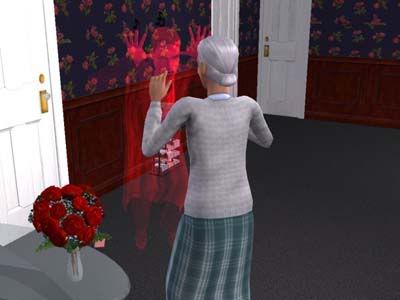 The hired help fares no better.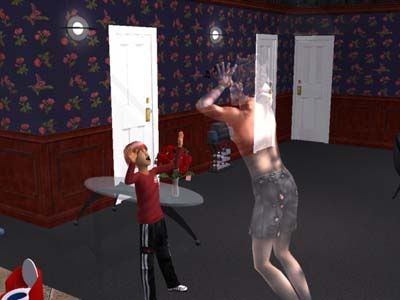 But now the ghosts are scaring my spawn.
It is all too much now,
too much to take.
I hurry upstairs to the safety of my Spawn's shared bedroom where the ghosts have yet to ascend to...
and I am about to change my life....
I feel no different.
I look no different.
I change my appearance and wait for daylight where I am pleased to find I no longer shun the sunlight.
As the hired help was leaving she attempted to kidnap my baby Will!
This was the final straw.
I grabbed my baby back and made my decision to move-
****************************
to a new house, and a different life.
As the removal company began to clear my goods I looked around my bedroom,
9 husbands, 9 pictures.
9 headstones in the cemetery.
Enough.
We anxiously await the arrival of the taxi to take us to our new home.
I take one last look around my now empty abode.
I feel some sadness but also a new emotion,
I believe it's called excitement.
The house may be empty but the graveyard will remain forever.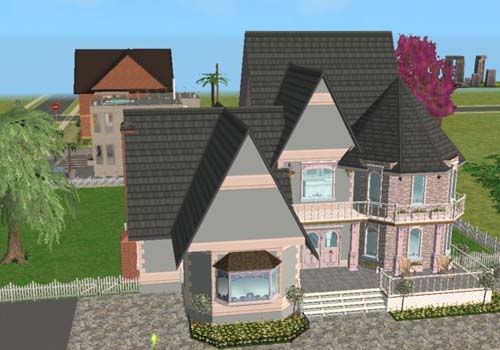 A short journey takes me and my children to our new home.
It's beautiful- big, stylish and with a huge garden.
I can barely contain myself as I finally feel able to do things the normal townspeople around here do.
I allow Anya to drive for the first time as she carpools to school with Spike.
I settle Will into his crib and while I'm in a carefree mood decide to go all out.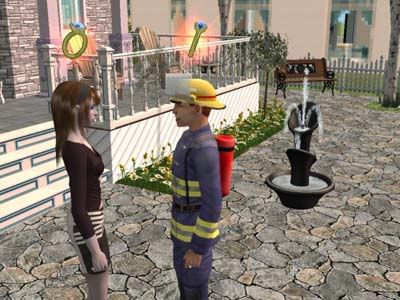 Neil came over and we got engaged- he accepted my offer to move in and did so bringing an extra 17,000 Simoleons to my home.
Not that I need the money anymore- I have so much.
Neil and I decide we are going to marry- today.
There is much to organise and Neil starts off with a new look.
While I'm busy planning the wedding Neil pops over the road to the store to fetch some items for us.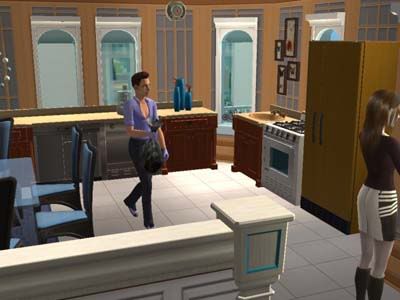 Remington is still with us of course- he's the most wonderful neat-freak you could wish for in a maid.
As the stage gets set I find Neil and Anya smustling in the garden.
I am having a Wedding Party!
As we await the rest of our guests I actually don't feel one regret.
I must be cured.
All my children are my guests.
Little Will is sleeping of course.
I decided to shake the Widow stigma and became Mrs Wendl Le Tourneau.
Not all of my children watched me take my vows- yet I know they are here somewhere.
Racquel (twin child of Goopy) is pigging out in the kitchen.
While the ever so slick Quinn is strumming some tunes.
Most of them make it out to the garden party.
It's so wonderful to have this family reunion.
I've never had a party before and didn't realise how much fun they are.
I watch Neil and Spike having fun in the water wiggler and can't remember a time when I have felt so contented.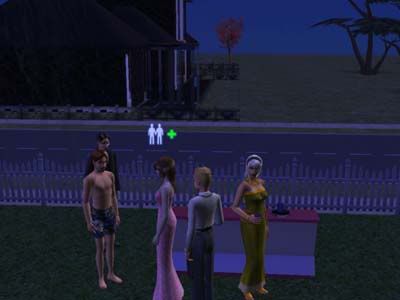 As the last of the party guests remain I take one last, long look across the road at my old abode.
Sometimes late at night when I sit here on the back porch I think I see ghosts floating around.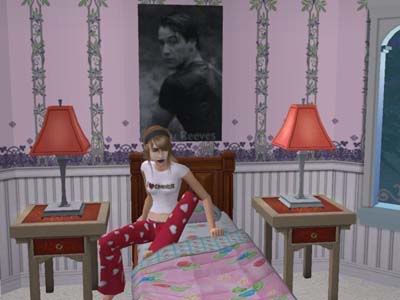 Anya is thrilled to finally have her own girlie room.
Neil and I went on a honeymoon.
It was wonderful.
Short- but wonderful.
As I sit and contemplate what my life holds before me I can look back at my previous life as an adventure.
My new adventures will come forth in many ways- 6 of my children are University students, one has graduated and others are yet to go-
That's a lot more parties.
One thing is certain- I will never again have to worry about those 9 ghostly ex-husbands of mine.
Though I may have to fight Officer Ramin and Clay the Bartender off at some point.

I would like to thank you Readers for following my journey as a Black Widow.
I may have decided not to kill any more husbands, but that doesn't mean my life is over.
and come Winter, Spring, Summer or Fall- you are guaranteed to see me again in some form.

********************************
**********************************
My Most Favourite 'Blooper' pic from this challenge.
To set the scene-
Wendl had just married Goopy and he was helping her with her Twins' birthdays.
If Wendl could say anything here, I think she'd be saying,
"No Goopy- Go Long!!".
Or make up your own- answers on a postcard please. :)
Big hugs and thanks to Val for Wendl's beautiful new home, for that and other wonderful homes visit
SimEstates2